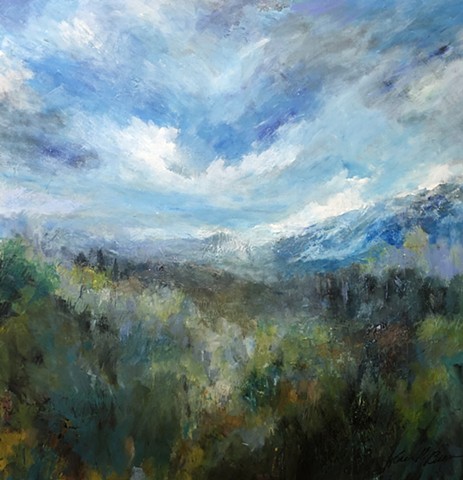 Art and Culture Featured Article - Karen Keil Brown
https://online.anyflip.com/igplc/hpvc/#p=55

Art and Culture Magazine
https://online.anyflip.com/igplc/hpvc/#p=55
KAREN KEIL BROWN is an award winning artist from Asheville, NC. Originally from New Jersey and raised in the beautiful mountains of Western North Carolina,
Karen has been a professional artist for over 25 years with a Bachelor of Arts degree in Fine Art from UNC - Asheville. She has experience in commercial art and as an art teacher in the school system for over 10 years. She has participated in numerous art exhibitions with her paintings in private and corporate collections throughout the United States.
"Art Spectrum Magazine" Ethereal Landscape Oil Paintings
Karen Keil Brown, Discovers a delicate balance between earth and sky, realism and abstraction, In this currant body of work Karen captures the essence and tranquility of nature with a sense of internal energy. As forested mountainsides are cloaked in a muted depth of mist and shadow, Brown focuses our vision on a moment of serenity, revealing an elemental and transcendent dance between atmosphere and light. Brown paints with an intuitive and softly expressive brushstroke, distilling the ever-changing face of the landscape with an ethereal immediacy.
"I paint on canvas maintaining the meditative freedom and breath of my signature style as I work in either medium. I usually paint in my studio using photos from my outdoor experiences to inspire my work, not to dictate the outcome of the painting . I like to free up my imagination to provide unexpected opportunities for a more creative process. I often use a dash of red within the painting to represent my internal passion for each piece.
Painting landscapes is a personal way for me to connect with the spiritual and physical forms of nature. I hope to give the viewer a feeling of peace and tranquillity . I welcome commissions, as I enjoy incorporating my style into my client's vision.
Mission Health hospital commissioned Karen to paint an 8x4 oil painting for the surgical waiting area in the new wing .
Karen supports Arts for Life, an Organization helping children and their families dealing with challenging health issues. She also donates her art work to various charities.


Studio: RiverArts District - Pink Dog Creative 348 Depot St, Asheville, NC 28801 Contact Info. www.karenkbrown.com
kcaabrown@gmail.com 828-231-0617 Please text or call for an appointment
Gallery Representation:
ALL SALES ARE FINAL- no returns
Pink Dog Studio #160 348 Depot St.
.Asheville NC Pink Dog Studio - 348 Depot St,
Shuptrines Gallery - 2646 Broad St, Chattanooga TN WNC Design
Taupe Gallery. N Wilksboro. NC Guide.com ,
Agora Gallery - 25th St, NYC, NY 2013-2014
Wild Hope Gallery , Alpharetta GA